Orcs of Mordick
Orcs of Mordick - OUT NOW!
---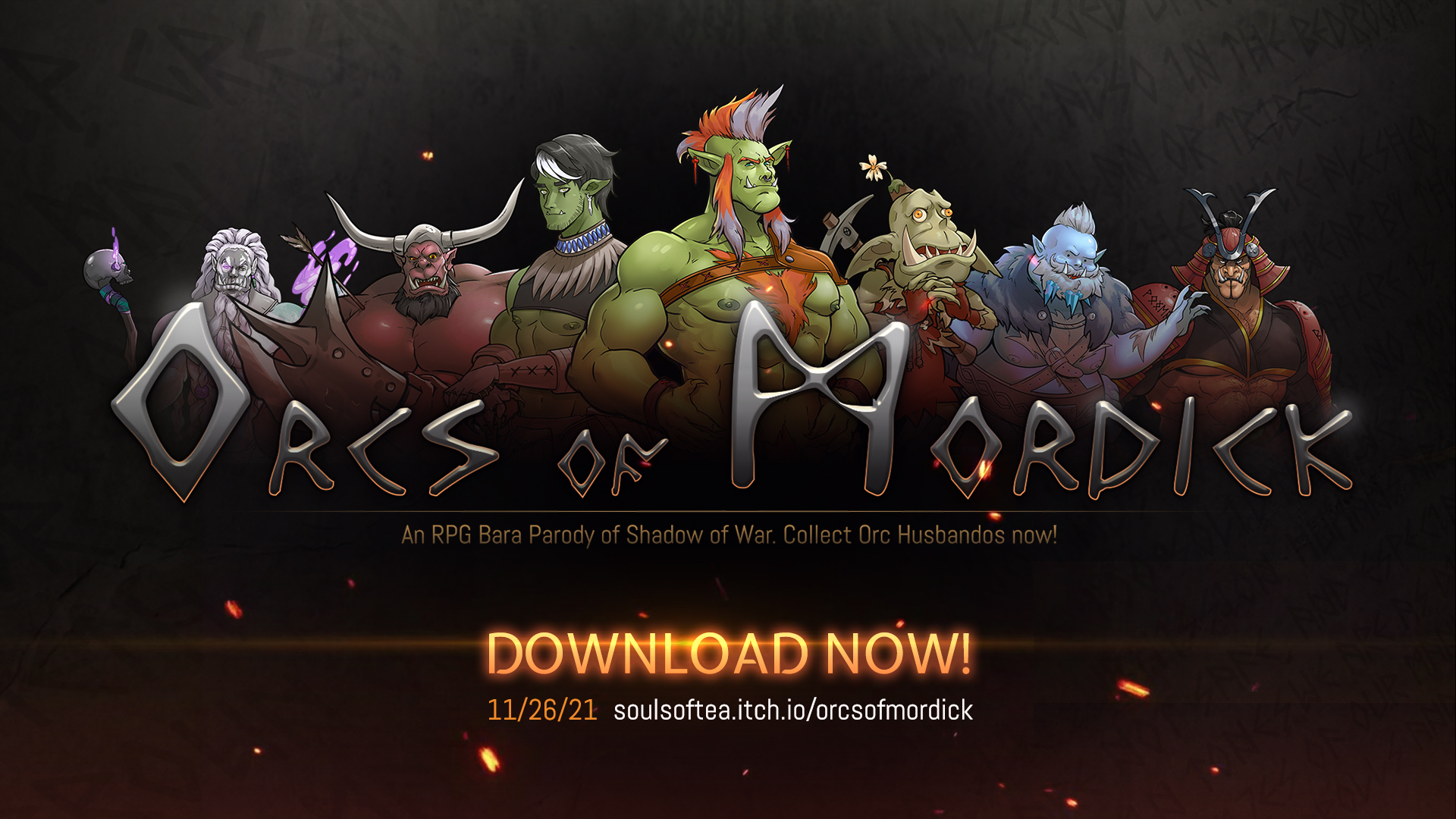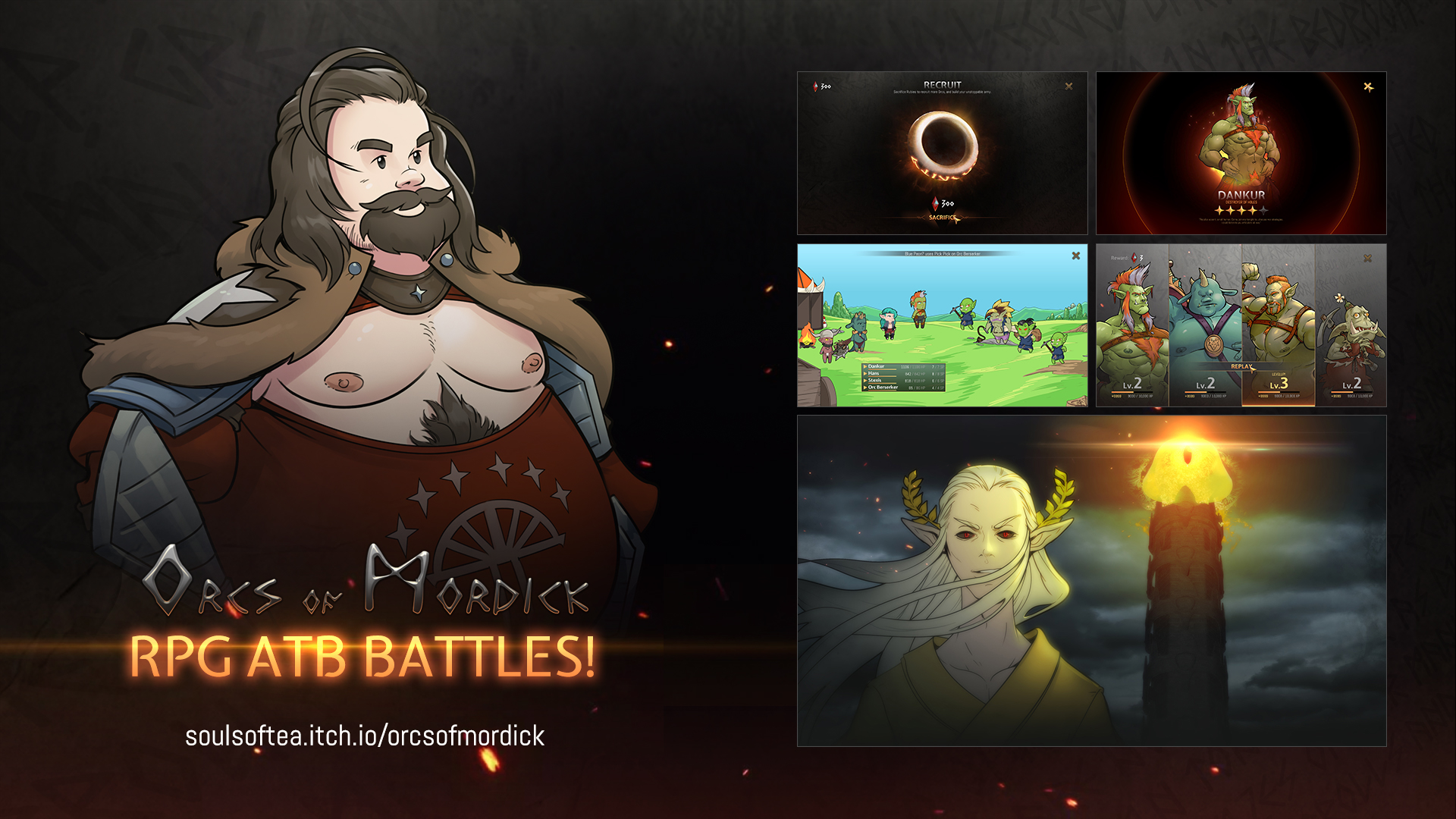 Happy Saturday (and belated Itch.io Creator Day)!
For those of you/us in the US, hope you had an amazing Thanksgiving. For me, one of the things I'm most grateful for, is the amazing team that made this release possible. Say what now, YES...Orcs of Mordick is now officially OUT!
So come join us in the great land of Mordick, and gawk at (battle)fields of beautiful green orcish bulges. Whether you're here to find love, bring peace to the land, or just flex on penis monsters...well, there's something for everyorc...errr, everyone.
FEATURES: - Completely 100% FREE. No MTX! - Collect sexy and muscular Orcs, across different worlds. - Reject multiple currencies! We just have 1 (Rubies), only earned in-game. - A flat summon rate for all units! No 0.00095% chance, BS. - Fast and fun 4 -Party, RPG ATB battles!!! - No predatory game systems, that try to funnel you into spending/grinding. - A fully contained world with lore and great characters. - Cheeky, gay-centric humor...parodying a few staple fantasy IPs. ;)
So come try our game out! We'd love to hear from you, and retweet and share if you like the game.
Retweet & Share: https://twitter.com/SoulsoftEA Community & Discussion: https://soulsoftea.itch.io/orcsofmordick Discord Discussions: https://discord.gg/7JJ8gX4
Files
OrcsofMordick-1.0-linux.tar.bz2
151 MB
Nov 24, 2021
OrcsofMordick-1.0-mac.zip
152 MB
Nov 24, 2021
OrcsofMordick-1.0-win.zip
157 MB
Nov 24, 2021
com.bobcgames.orcsofmordick-101-universal-release.apk
170 MB
Nov 27, 2021
Comments
Log in with itch.io to leave a comment.
I'm playing this just for the middle girth pun. Ha. Keep it up!
It'd be better if the speech was black.
I use an Android device.

hi Ericz, this should be fixed in the newest android build. You may have downloaded the first one. Let us know if it's still a problem though!
newest build is com.bobcgames.orcsofmordick-101-universal-release.apk (101, not 100)
Yes, the problem has been resolved. Thx 💜💜🏃🏽‍♂️🏃🏽‍♂️ Now I can really enjoy it.🥰
Thanks! We hope you enjoy it!
Unfortunately the rate of progression just didn't quite work for me, felt like I was replaying levels for ages, but it all worked bug-free and there were plenty of cuties. If this weren't a "one and done" project, I'd give thoughts on what to improve, but as it stands it certainly kept me interested for an afternoon!
Edit: Oh nevermind, I just saw the post about the balance update, I'll revisit and see how it feels
Hmm interesting I am going to try it looks great 🧐💚💚💚I'm in love with orcs. 🤭💚
Thx for this lovely game 🌚💚💐💚🏃🏽‍♂️
Heh, I know Ive always had a thing for Orcs myself (especially barbarian orcs, mmm). Oops! Almost lost my train of thought there. ;) But it's only really been in the last 2 yrs that I've REALLY wanted to do something related to Bara Orcs.

But yes! Please give it a try Ericz, and let us know your thoughts! We're always looking to improve. :) and if you do like the game, please share and let your friends know! The more the merrier. ^^